Tribulus Ashwagandha Capsules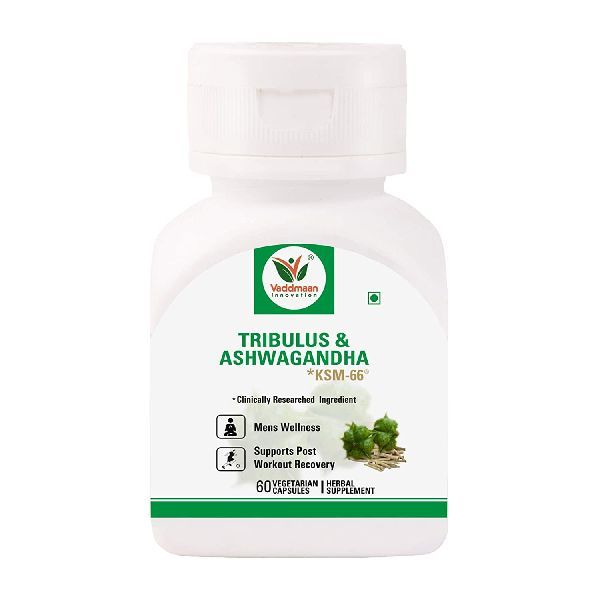 Price :
699.00
/ Bottle(s)
Business Type
Manufacturer, Exporter, Supplier, Retailer, Wholesaler
Form
Capsules
HSN Code
30049011
GST Rate
12%
Click to view more
Product Details
Unit of Measurement
Capsules
Pack Form (Bottle, Tube , Strip etc.)
Bottle
Age (child, Elderly, All)
All
Warranty Type (Brand/ Seller)
Brand
Product Description
"WIDELY USED… FOR GOOD REASON
Tribulus Terrestris, commonly called Tribulus or Gokshura, is a spiny plant that grows in warm climates across the globe. Its fruit, leaves, and root have all been prized for hundreds of years in traditional medicine for a variety of health and athletic purposes, especially in Greece, China, and India. But it's tribulus's theorized status as an adaptor, plus its reported testosterone-boosting properties, that are perhaps the primary reasons why this plant is still commonly used as a male vitality supplement today while enhancing post workout recovery of fitness enthusiasts and sports persons
Some believe that the fruit specifically has historically been used to deliver the most potent benefits, which is why our Tribulus Terrestris comes in the form of 400mg extract. KSM-66 Ashwagandha is additionally included to optimize bioavailability, absorption, Energy and vitality, helping to ensure the formula starts working quickly.
UNLEASH YOUR POTENTIAL
The fundamental building blocks of superior health and wellbeing are ingredients that deliver exceptional benefits – potent compounds taken alone or in combination that fuel premium nutrition and help us lead more fulfilling lives.
Whether addressing a specific concern, targeting a particular deficit, or amplifying an existing attribute, each Vaddmaan formula is developed using the same strict standards and threshold of scientific validity as our comprehensive performance supplement.
Substantiated dosages of key constituents are paired with KSM-66 Ashwagandha for optimal absorption and efficacy. These focused ingredient combinations work quickly and consistently to produce powerful results, giving you exactly what you want and none of what you don't.
Every Vaddmaan formula is purposefully designed to pair with the full line of premium Vaddmaan supplements, helping you tackle your goals and fully Unleash Your Potential."
Uses (Skin Care, Hair Care, etc)
Men's Wellness, Testosterone Booster and Male Vitality Supplement, Reduce Stress, Anxiety, and Cortisol Levels
Key Ingredients
KSM-66 Ashwagandha, Tribulus Terrestris
Key Benefits/Uses
Mens Wellness
Support Male Vitality
Supports Post Workout Recovery
Support Athletic Performance
Improve Stamina Performance
Helps Drive & Energy
Direction for use/Dosage
"For Adults, 1 capsule twice a day with water or milk after meal or as directed by your health professional.
For best results, herbal supplement products should be used along with healthy diet and regular exercise."
Safety Information
Do not use if safety seal is broken, damaged or missing.
Looking for "
Tribulus Ashwagandha Capsules

" ?
Bottle(s)