Natural Ashwagandha KSM-66 Capsules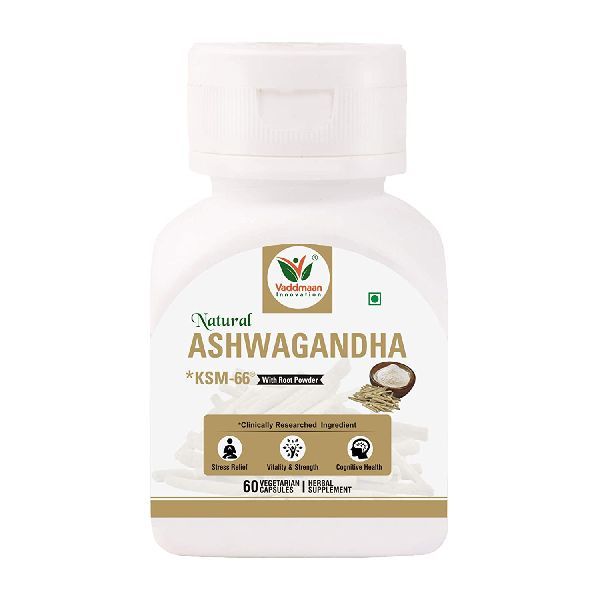 Price :
899.00
/ Bottle(s)
Business Type
Manufacturer, Exporter, Supplier, Retailer, Wholesaler
HSN Code
30049011
GST Rate
12%
Product Form
Capsules
Click to view more
Product Details
Unit of Measurement
Capsules
Pack Form (Bottle, Tube , Strip etc.)
Bottle
Uses (Skin Care, Hair Care, etc)
Helps Natural Anxiety Relief, Vitality, Energy, Strength & Overall Wellness
Age (Child, Elderly, All)
All
Warranty Type (Brand/ Seller)
Brand
Product Description :
"Ashwaghanda has been used in India for over 3,000 years in Ayurveda Practices promoting a certain level of wellness from the belief in balancing your mind, body, and spirit. Ashwagandha in Sanskrit means 'smell of the horse' and is native to North Africa and India.
KSM-66 is an Ashwagandha extract made by Ixoreal Biomed, created via a process that took 14 years of R&D to develop and refine. The Highest Concentration, Highly Bioavailable, Full Spectrum Root Extract. This improves the taste by removing the bitterness.
Ixoreal is the industry leader in clinical trials and basic research investigating the effectiveness of ashwagandha. KSM-66 has been evaluated in 22 "Gold Standard" human clinical trials. It collaborates with major academic and research institutes. All of Ixoreal-partnered clinical studies follow gold standards of substantiation: randomized, double-blind, placebo-controlled designs.
For a herb to operate at a systemic level, it needs a complex blend of phytochemicals with a wide range of actions on the human body. Ashwagandha is one of the very few herbs in the world with a complex blend of this type. As ashwagandha operates at the systemic level, it has 20+ distinct applications described in herbal medicine textbooks. 
Recent studies have shown that Ashwagandha could be beneficial in a number of ways. It's possible that Ashwagandha can help calm anxiety symptoms. In fact, a newly published study showed that Ashwagandha consistently reduced anxiety levels. 
Clinical study evaluated in healthy athletes with and without KSM-66 supplementation. Athletes taking KSM-66 showed substantially higher improvement in cardiorespiratory endurance (VO2max) Energy & Stamina. 
Evidence-Based Complementary and Alternative Medicine" showed that KSM-66 yielded significant increase in semen volume, sperm concentration and motility, serum LH and testosterone. "
Key Ingredients
KSM-66 Ashwagandha, Ashwagandha Root Powder
Key Benefits/Uses
Energy & Strength
Anxiety Relief
Stress Relief
Support Athletic Performance
Vitality & Strength
Cognitive Health
Direction for use/Dosage
"For Adults, 1 capsule twice a day with water or milk after meal or as directed by your health professional.
For best results, herbal supplement products should be used along with healthy diet and regular exercise."
Safety Information
Do not use if safety seal is broken, damaged or missing.
Looking for "
Natural Ashwagandha KSM-66 Capsules

" ?
Bottle(s)